Free Training:

Here's How You Can Start Making an extra $3-5k/month From eCommerce
using this new way
Discover the most profitable and scalable way to build a successful eCommerce brand completely from scratch in 2023 and beyond!
(without any prior experience & can be done from anywhere in the world)
STEP #1

: WATCH THIS FREE VIDEO TRAINING
It's time to reveal the eCom industry top
secrets
Please enter your details below to unlock it:
INTERESTED TO LEARN MORE?
* This offer will close forever after the planned number of students join the mentorship.
Customers served!
17
**Limited Spots Remaining For This Week**
[Trustpilot Carousel Here]
Wolfofbey Finally

REVEALS
His

eCommerce Engine

Used By The World's

Top Brands
..that can drive your store sales up to

$1,000 a day

(or WAY more)
in 90 days or sooner

ON AUTOPILOT.
A Birds-eye view of what's inside the engine:
---
Here's What you get if you enroll today
with new material added as the industry grows!
Lifetime Access To The Updated Course ($3,950 value)
You will have access to 15+ hours of detailed HD video lessons including an actionable plan, systems, blueprints, strategies, worksheets, PDFs, etc..


You can watch the lessons at your own pace using any device connected to the internet. You'll have access to my 9 years of eCom experience in one place.


Not to mention I'm constantly upgrading and adding new material to this course, which will be automatically added for you free of charge.
Scroll down for the full curriculum breakdown.
Weekly Live Coaching Calls ($1,800/month value)
Every week, we will jump on a live zoom call together with the rest of the class where you'll be able to ask me questions directly about your store.
I will also be updating you of anything new happening in the industry so that you stay informed of the latest trends, tools, strategies, etc..
This alone can cover the cost of the whole course because you'll have direct access to my consultation every week.
P.S. All zoom calls are recorded and stored automatically inside your engine program account.
Free Copy of My Best-Selling Books ($768 value)
I will throw in 21 of my BEST ebooks that I've ever written for the eCommerce industry.
Including:
1.
5 Ecommerce Secrets Millionaires Won't Tell you About.
2.
Inside a $2m Ecom Business [TOP SECRET].
3.
The Wolfofbey Facebook Ads Strategy.
4.
The Snapchat Money Printing Guide.
5.
Influencer Marketing Secrets Revealed.
6.
How to Maximize Sales using Google Ads.
7.
20+ Klaviyo Email & SMS Flow Templates [Full Blueprint Included].
8.
20+ Killer Ad Scripts That Sell as F*ck.
9.
Full Wolfofbey Contacts & Apps List.
10.
Tiktok Sales Strategies.
11.
Every Ad Creative your Business Needs to Take off.
12.
Full SEO Checklist for your Blogs.
13.
How to build the most converting UGC ads for your business.
14.
Black Friday Tips & Tricks You Should Do in 2022.
15.
Customer Support Scripts you need for your eCommerce Business.
16.
How to Boost your on-site Conversion rate on Shopify.
17.
Top eCommerce Strategies for Christmas 2022.
18.
Top projected eCommerce Niches in 2023.
19.
How to use AI for your eCommerce Business.
20.
Top eCommerce strategies for Valentines 2023.
21.
500+ Business Scripts to use on ChatGPT.
And always adding new eBooks!
Access to My Premium Discord Channel (priceless)
Upon purchasing the Wolfofbey eCommerce Engine, you will be given automatic access to my premium Discord channel.
A place where all my top-earning students are always helping each other grow, scale and share new strategies.
I also jump in there every once in a while to answer questions, give you the latest industry updates, announcements and maybe share some memes I find funny.
I'm just proud to say that it's an eCom mastermind like no other on the web.
P.S. You will have lifetime access to the #course-students channel alongside a dozen other channels that are exclusive only to those who bought this course.
Oh and ALSO you'll be added to my close friends list on Instagram where I share with you my latest financial moves, new eCom strategies, rants, memes, my personal life, etc...
---
Program Curriculum full breakdown
In this course I've structured the modules in a very practical way for you to learn and apply the quickest.
The Foundation: Millionaire Mindset Secrets [38 Minutes]. This is step 0, without this, everything else is useless. Before you start working as an eCommerce entrepreneur, you need to think like an eCommerce entrepreneur. Therefore, I've prepared 3 essential Lessons in this chapter for you to pump up your mindset & get ready to hit any obstacle you might face with a million dollar mindset. The exact same exercises mentioned inside this chapter are the ones that I use at my lowest points, therefore, I made sure I include them for you to use them at every stage of your journey.
Chapter 1: Modern Introduction to eCommerce [39 Minutes]. Step 1 is to understand what eCommerce is and how it works, therefore If you are beginner in this industry, this chapter is great for you to understand everything about eCommerce - during this chapter, you will learn what eCommerce is & how it works, what you need to start an eCommerce business & the 4 business models you can operate with during your journey.
Chapter 2: Cutting Edge Product Research Secrets [1 hour 32 Minutes]. Remember how many times I said sell irresistible products? Well, this is the exact chapter you should explore. Inside this chapter I teach you 5 methods on how I find potential winning products every single time. Also, I teach you methods on how to find the right suppliers & negotiate with them, pricing strategies, market & competitors analysis all the way to ordering your 1st batch of products.
Chapter 3: Creating your store on Shopify [4 hours 32 Minutes]. People's biggest worries, is "I don't know how to code or I don't wanna pay a lot for a Shopify programmer", well worry no more, I don't know a single line of code, yet I've built dozens of Shopify stores. During this Chapter I teach you a full A to Z guide on how to build your Shopify store from scratch even if you have 0 knowledge about Shopify. I walk you through every single step you might face to get your website up and running. I also explain how to build highly converting landing page by amplifying it with the top converting Shopify apps & many many more tips & tricks. Also you will get access to a payment gateway & shipping solutions along side a full lesson explaining Email & SMS marketing.
Chapter 4: Social Media Viral Marketing Masterclass [2 hours 10 minutes]. Believe it or not, your social media channels can do more than telling your friends what you had for dinner. I will teach you how to create, run & monetize your social media channels in order to get the best return out of them. Also, In this chapter you will learn everything about the secrets of Influencer Marketing, with the full guide on how to find them, work with them & maximize your sales through them.
Chapter 5: Mastering Facebook Ads from Zero to Expert [5 hours 25 minutes]. My favorite Chapter of them all, Mastering Facebook Ads. This chapter is perfect for beginners & masters of facebook ads as it walks you through every single step of the game. You will get access to the world's top underground Facebook Ads secrets that me & the world's top experts use to generate millions of dollars in sales through media buying techniques. You will learn everything about Facebook Ads, Pixel, Audiences, Adsets & more - and for the first time ever I'll be revealing The Wolfofbey Facebook Ads strategy that is responsible for the success of every campaign I've ever made. Make sure to also check the tiktok bonus lesson!
Chapter 6: Scaling & Automating Your Store [35 minutes]. After you successfully start your business & generate enough sales, it is time to start scaling it. In this chapter you will learn the top 10 tips & strategies to scale your business to beyond 5-6 figures while almost completely automating it.
NEWLY Added Chapters: How to use AI in eCommerce, Accounting for your eCommerce Business [SHEET INCLUDED] and much more being added all the time!
---
The turbocharger to your engine!
In addition to the full lifetime program access, weekly live coaching zoom calls, free copies of my best-selling books and joining my premium Discord community.. You will also unlock these exclusive bonuses upon enrolling today into the the #1 eCom mentorship program in the region
Bonus 1
My eCom Cheat Sheets
These cheat sheets summarize EVERYTHING inside my course.

If you happen to forget something, you can just open up the cheat sheets and find what you need without re-watching the whole course.

Look at it as the English dictionary, but for building an eCom empire. It's filled with industry must-know jargon, ad strategies, product blueprints, links to tools, etc...
Bonus 2
30 Shopify Plug-n-Play Themes.
($800 value)
One of the best things about Shopify is the ease of building your store website quickly without the need of a developer.

However, all the premium templates usually cost $100+ to get your hands on.

With this exclusive bonus, I will not only provide you with THIRTY premium good-looking templates that are easy to build on, but I also designed them in a way to CONVERT like crazy. You can't go wrong with these themes. There's a theme for every type of eCom business.
Bonus 3
A-LIST Contacts
(Priceless)
To make sure you get the absolute best results in your eCommerce journey..
I've decided to include..
And this is a BIG ONE.
Ready?
I'll give you direct access to my TOP connections and contacts in the industry, from suppliers, to delivery companies, to warehouse stores, etc..

So you don't waste time "making connections" while you could be out there building your store up!
AND AS A CHERRY ON TOP..




I'M GIVING AWAY 2 EXTRA COURSES AS A BONUS

:
"Dropshipping: Full A to Z Guide"
[1 hour 20 minutes]
A HIGHLY DEMANDED COURSE.
($400 value)
"Dropservicing Mastery"
[2 hours 30 minutes]
MAKING YOUR FIRST $10K ONLINE.
($300 value)
* This offer will close forever after the planned number of students join the mentorship.
---
my guarantee to you
365-Day 100% Money Back Guarantee!
You are fully protected by our 365-day 100% Satisfaction-Guarantee. If you go through the whole course, follow all the steps and don't get a single sale within 365 days of starting the course, I will personally give back all your money and an additional $200 for the time wasted.
That's how CONFIDENTLY I stand behind my course. NO ONE in the industry dares to do that. I've literally removed ALL the risk for you.
Among all my students who bought my courses in the past (2,611 until this date to be precise), I had ZERO refunds.


And now you have ZERO excuses to start building your online empire. You are fully protected for a WHOLE year.
Student Latest Reviews
899653f8-e2e8-49cf-9d6e-50a7154efdf9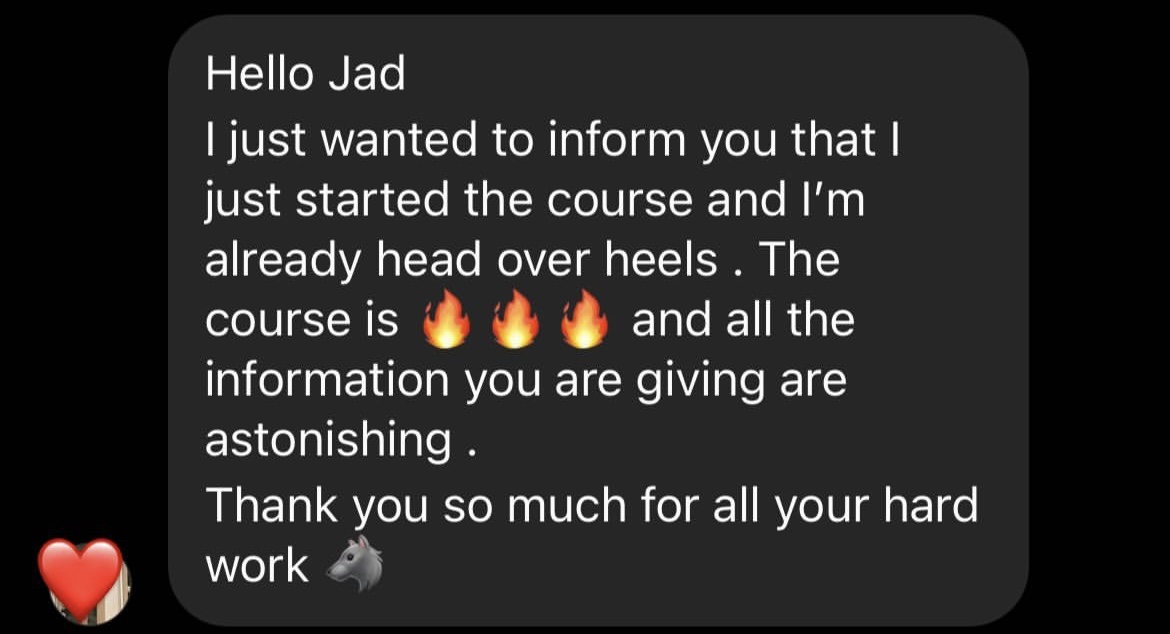 efda01ca-6421-4725-9566-895b4f4af57c
5fbefffb-832c-4c36-ba6c-7b28da74c2ee
d6a8ad1b-640f-47cd-bacd-46edac10e4ef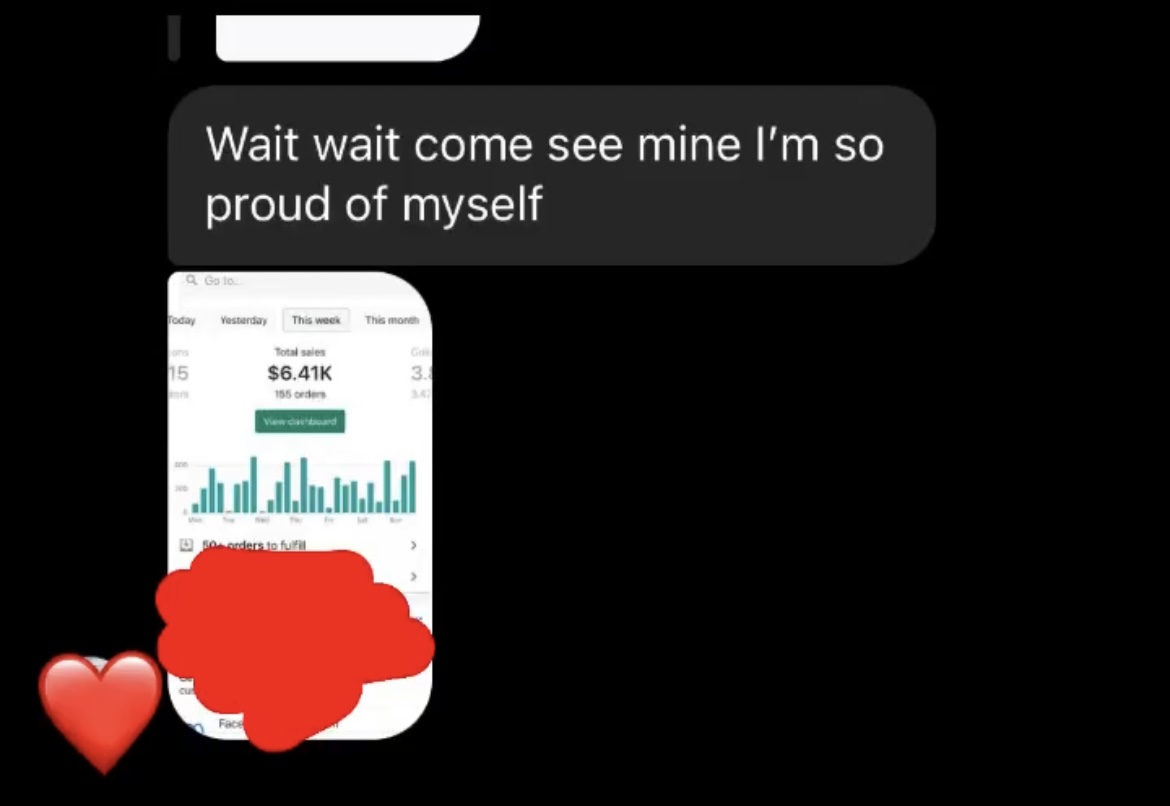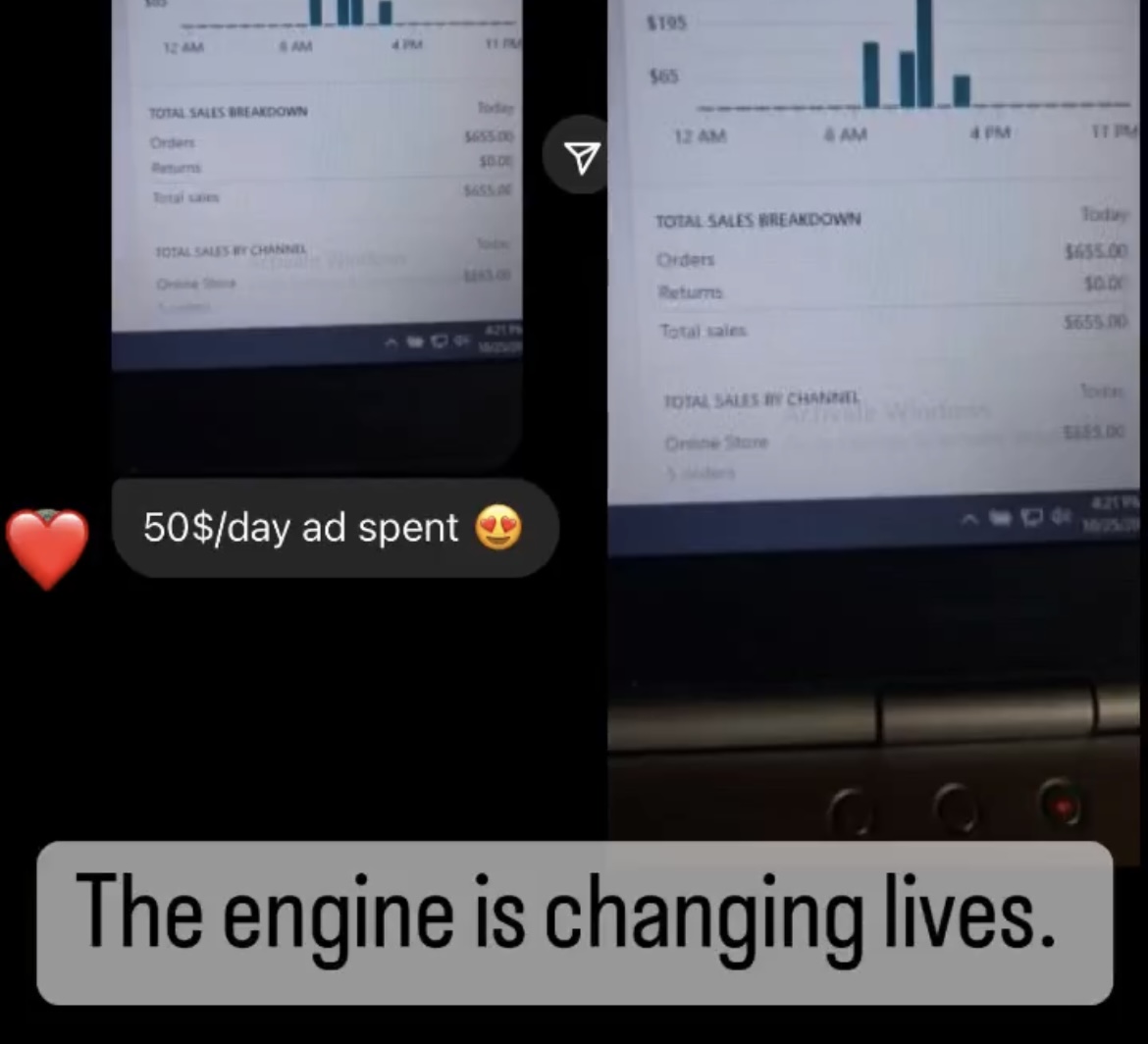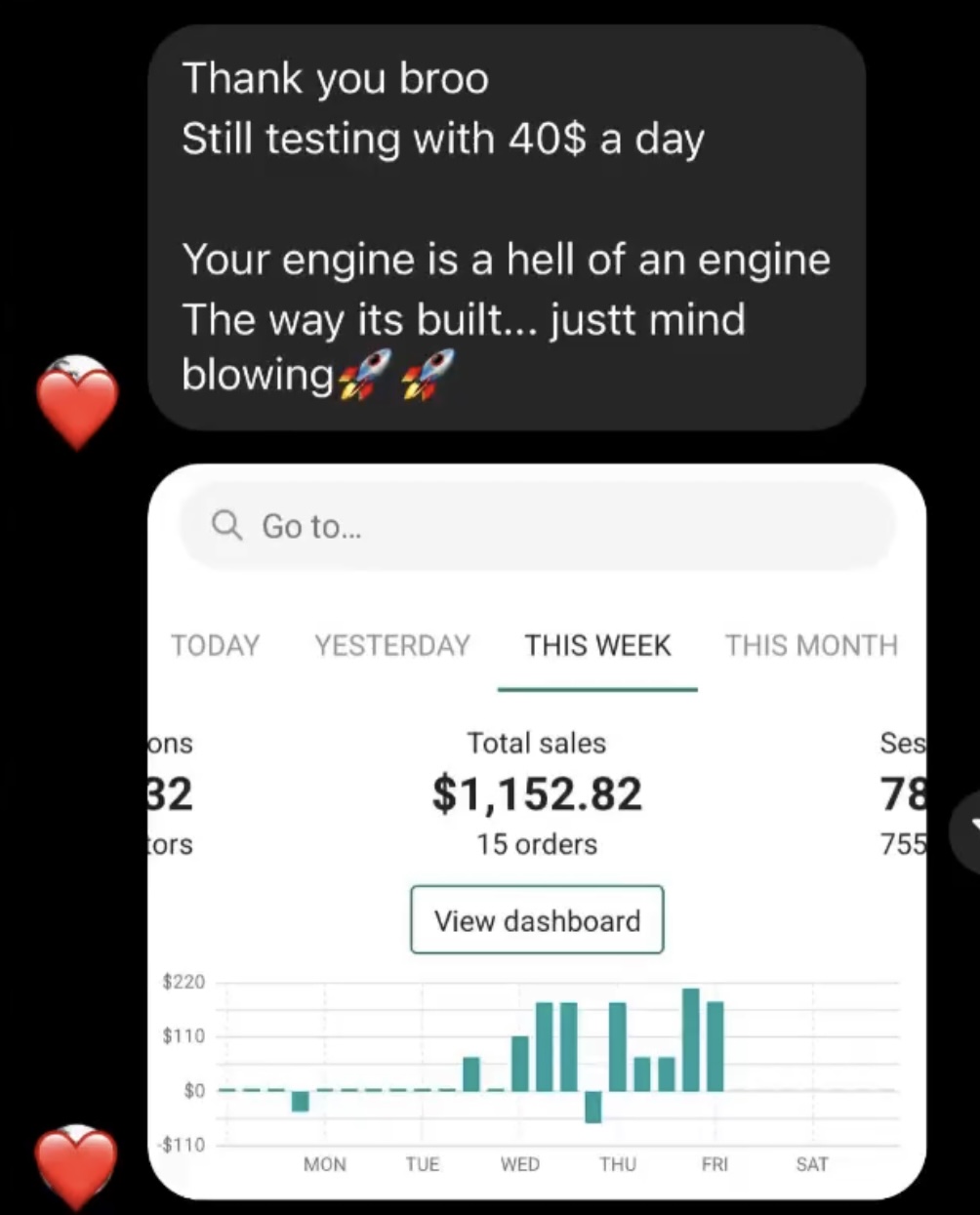 ---
More Proof that my eCommerce Engine works
* This offer will close forever after the planned number of students join the mentorship.
---
JAD AL FAKHANI // eCommerce Entrepreneur
Jad, also known as wolfofbey is an eCommerce serial entrepreneur that have come all the way from nothing, to owning multiple 6 & 7-figure businesses in the Middle East. Till this day, more than 15,000 people have joined Jad's Trainings; Lives, Seminars & Workshops.. With 2,200+ of them already having launched their profitable eCommerce startups.

In 2021, Jad had an interesting realization, that if he came from literally owing over a million dollars in family debt, to generating over $300,000 in sales every month across his stores, then anyone can do it if they follow his proven eCom engine (just copy & paste the process), which is why he decided to share his journey, knowledge & winning strategies with the people who need it the most.