The #1 community in the region for successful online business owners.
"You're the average of the five people you spend the most time with" - Jim Rohn
How It Works
Premium Discord is a monthly membership of $29 ($348/year).

Until June 15th, you can get LIFETIME ACCESS for only a one-time payment of $79
I know how hard it can be to embark on a journey (like building your own lifestyle online business) all alone.
I'm not going to lie to you: You will hit some "road bumps" along the way. And that's normal. The important part is that you get back up and continue going until you reach success.
The best way to overcome setbacks is to have a group of friends - other aspiring entrepreneurs - that are going through the same process right next to you. That's why I created the premium discord membership.
An exclusive community of entrepreneurs, so you can get:
Advice: Post your questions and get specific advice from real-world experts on how to
improve your website, products, or marketing.

Motivation: See what's working for other students and use their success as inspiration.

Networking: Build the kind of connections - in a matter of days - that are normally
restricted to successful online entrepreneurs with years of experience.
I built this community to guarantee that you don't have to figure anything out on your own.
If you ever have a question or barrier to break through, just ask the community for help and we'll be there for you.
With that being said, here are the 20+ channels you'll unlock if you join today:
Detailed info about the channels:
Major Announcements: All community announcement.

Student-help-center: All 1600+ students can ask questions and get help from other students.

Premium channel: Sharing winning products, strategies, tips & tricks almost everyday (this alone should cover the monthly membership!).
Here's a sneak peek of the premium channel (it's responsible for the success of many of my students):
Mindset & Motivation: One of my favorite channels that tackle serious mindset issues while sharing the best support to keep you thirsty winning everyday.

Course-ebooks: All 20+ ebooks (always updated through time) / If you got the ebook package you already will have access to this.

memes: Everyone needs a laugh, enjoy a laugh with your fellow hustlers with ecom & business tailored memes.

Instagram posts: Sharing links to my instagram posts to make sure you don't miss any.

Introduce yourself: Get the chance to fully introduce yourself & your skills to a community of over 1600 (remember: Your net worth is your network).

Instagram close friends: Get access to my IG close friends list where I'm 101% transparent with lifestyle & business posts.

nfa lounge: Crypto & stocks talks.

Shill your business: The zone where you can freely offer the community your business services.

I-am-looking-for: the best shortcut to find your demands, just type in what you're looking for, and if anyone from the community can support, they'll connect instantly.

I-can-offer: Type in what you can offer so that other fellow members can save your contacts.

Success-and-fails: Make sure to learn from other people's successes & fails to avoid doing their same mistakes + it's a great daily motivation that getting rich is doable.

Giveaways: Besides multiple giveaways I do on instagram, I run a couple of exclusive ones only for my community.

Dropservicing students: Free space for all of you to have a chill talk about this business model.

General inquiry: Ask for help in case of any technical issues with discord or the course.

Facebook-shopify-support: Get instant support on facebook ads & shopify from industry experts.

Ask jad: feel free to ask me 1 question a day.
We have a special offer until March 15th:
Instead of $29/month ($348/year)
You can now UNLOCK ALL of the above channels for only a one-time fee of $79 & Get LIFETIME ACCESS.
Ready?
Join Premium Discord Today
Surround yourself with successful people
Reviews from students who already joined:
899653f8-e2e8-49cf-9d6e-50a7154efdf9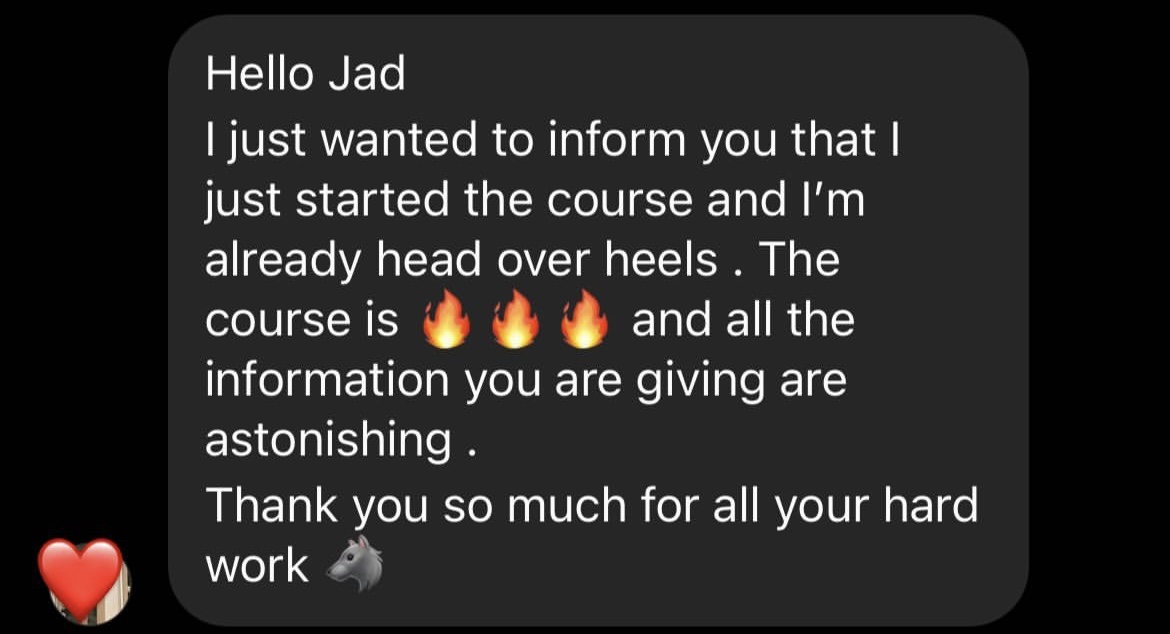 efda01ca-6421-4725-9566-895b4f4af57c
5fbefffb-832c-4c36-ba6c-7b28da74c2ee
d6a8ad1b-640f-47cd-bacd-46edac10e4ef